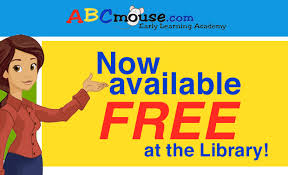 In the Children's Library is a dedicated ABC Mouse Computer.  It is FREE to use on any computer in the Library.  Come in soon and try it out!  Ask one of our staff members if you have any questions.
ABCMouse.com is an online early learning academy for children ages 2-8 with curriculum focusing on:
Reading
Math
Science
Art & Colors
More than 850 Lessons Across 10 Levels.
The Step-by-Step Learning Path presents the full ABCmouse.com curriculum in a carefully designed program of more than 850 lessons in ten levels. As your child completes each lesson, he or she is guided to the next one and is motivated to continue learning by ABCmouse.com's Tickets and Rewards System.